CakeSpy Presents Sweet Treats For A Sugar-Filled Life (2011)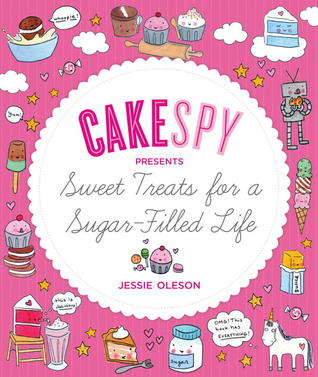 ISBN
1570617562
(ISBN13: 9781570617560)
publisher
Sasquatch Books
I was a First Reads winner with this book. I love baking and sweets in general, and my daughter is right along side me when I am baking. She was as excited as I was to get this in the mail. The pictures are nicely done, and the cartoons certainly add a fun attitude to it all. We made the St. Patrick's Day Leprechaun Shake, and it was pretty good taste wise. However, what you needed to make it was mostly pre-made, store bought items. It wasn't a from scratch recipe. Most of the recipes I've seen before, nothing all that new. I will certainly keep this book on hand when I'm in the mood to make something super sweet. It's a cute little book. I received this as a Goodreads giveaway. My daughter and I devoured this book as quickly as we will devour our first recipe from it. While we have not made anything from it yet, it is a truly delightful book just to read. The recipes all sound delicious and both the pictures and captions are fun. I think it would make either a great book for yourself or a great gift book. Now to figure out if we should start with Birthday Cake French Toast or the Rainbow Layer cake. Too many goodies to choose from.I hope the Jessie Oleson continues to write cookbooks, this one is wonderful.
Great ideas for desserts, can't wait to start trying them.
OMG!!!! i want to cook EVERYTHING in here right now!
These recipes are off the hook. In a good way.