Let's Just Say It Wasn't Pretty (2014)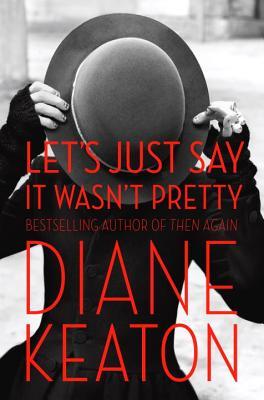 ISBN
0812994264
(ISBN13: 9780812994261)
I finished this book, laid it down next to me, and thought, "What did I just read??" Diane Keaton, a long-favorite actor of mine, works on film for me. Absolutely. But take her trademark awkwardness and all the quirks she's so well known for, and it just doesn't translate well in written form. "Let's Just Say It Wasn't Pretty" was a mish-mosh of ramblings, of stories that jumped in and out of the main story, without any real point to it all. What was this book even about?? Though some of the stories kept me entertained here and there, it was all too disjointed and they were inserted into the main story (whatever that was) in odd and often unrelated ways. I'm sure there are far worse books out there, but I certainly wouldn't recommend this to a friend. Best non-word to describe this read? "Meh". Oscar-winning actor Diane Keaton addresses the concept of "beauty" in this, her third nonfiction book. She sets her thoughts against aging—that time when most of us begin to notice changes in our bodies: sagging skin, sagging eyelids—and how to respond to the way time affects our appearance. Keaton's audience is for the most part women, particularly the "baby boomers" born, like her and me, in the mid-1940s. Her observations are charming and cut to the core."What the hell is beauty?" she asks. Her answer: mostly beauty resides in what we see with our eyes and how we interpret it, whether in another person's gift of a plate of chocolate chip cookies, a friendly, "Hi, Neighbor," or a particular pair of shoes that are alluring in some way. (Be careful before you slide that card: Prada is expensive.) She lives, she says, "with the beauty of regret, and the memory of love." "So what is beauty?" she asks again. "It's in my eyes, the picture window I look through . . . It's the Statue of Liberty's right hand holding the torch, and the call from Jimmy, the man who's washed our car for the last fifteen years telling me bowled 300."Along the way, Keaton addresses her compulsion to purchase, renovate, and sell houses. Fifty in all as of 2015. An obsession? It is her search—or her desire—to create beauty. She is also funny, as when she describes her relationship with actor Jack Nicholson. When she first met Jack, friendship was impossible: she just wanted to kiss him. "It didn't happen." Now, they are fast friends—both lamenting their hair loss, while meeting regularly for lunch.
meh, sometimes she is funny but she rambles.
A book about nothing basically.
Love Diane Keaton. Great read.
OK for a red eye plane trip.