Listen, Slowly (2000)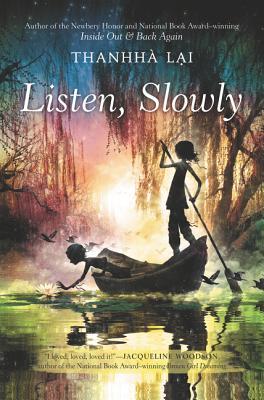 ISBN
0062229184
(ISBN13: 9780062229182)
Mai is a typical California tween who wants to spend her summer on the beach with her friends and flirting with a boy she likes. Instead, her parents send her to Vietnam to assist her grandmother in finding out what happened to her grandfather decades earlier. They don't hope for him to be alive but grandmother needs to know what happened so she can find peace. Mai starts out as a spoiled American teen, but manages, over time, to embrace her Vietnamese heritage and find a little maturity too. It's a wonderful coming of age novel that features a culture seen too little in children's literature. Mai is looking forward to her summer at the beach with her best friend, and the boy who she has a huge crush on when she gets terrible news. She will have to spend the summer with her grandmother in Vietnam. Her grandmother has never been able to accept the disappearance of her husband during the war, and may finally have the opportunity to find out what happened to him. As much as she screams and cries it is unavoidable, and before she knows it she is in the hot and humid climate of Vietnam. She is figuring out how to make friends and survive in a completely different world, but will they ever find out what happened to her grandfather?This book is a very sweet portrayal of a young and selfish girl, who is made to think of someone other than herself. Mai starts off spoiled and sullen about the whole trip, but eventually she realizes that some things in the world are a bigger deal than the beach, and the boy who she pines after. She does an amazing amount of growing up in such a short time! I loved the setting of Vietnam, it is obvious that the author has first hand experience. She paints a picture that makes me feel like I am there, or at the very least that makes me want to be there. She talks about the culture with such love and beauty. I thought that the lesson that friendship and family go beyond the boundaries of language was important. I loved the examples of communication that parted from our typical ways of speaking. Also, I must say, I probably wouldn't have read this book if not for the beautiful cover, but I am glad that I did.
This was a great book. One I just want to reread and see what I missed the first time.
Interesting juvenile book taking place in present-day Vietnam.
Recommended Ages: grades 5 and up