Manga Classics: Les Miserables (2014)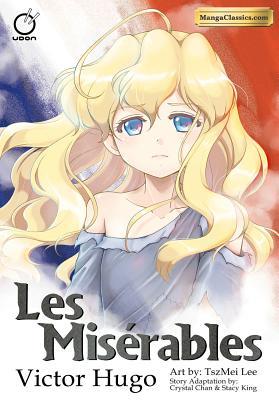 ISBN
1927925169
(ISBN13: 9781927925164)
publisher
Udon Entertainment
I was confused at first. Even though this is a manga I did not expect to have to read from page 345 back to 1 because it was an e-book. It's only a little inconvenient but you get used to it quickly. I love Les Miserables. I own several edition of the book and have seen it performed twice live! This was a fun version of the story and would be great for kids who don't have the patience to read the book. I think I am quickly becoming addicted to Manga Classic's line of graphic novels. Too many times have I seen poor renditions either in terms of artwork or story of literary classics. I keep picking them up because I love the classics, but I keep finding myself sadly disappointed. Manga Classic's Pride and Prejudice and Les Miserables is truly an exception to the rule.With over 300 pages, this graphic novel is gorgeous. I particularly enjoyed the characters' transformations. Cosette is so cute as a happy child, then pitiful in rags and scars, and finally adorable when she becomes loved. Fantine's transformation was particularly hard to see, but even in her roughest hour, the artwork is beautiful.I know the original story had to have been cut back significantly. This is an adaptation after all. The details are well chosen, though. It feels epic like other adaptions of Les Miserables, and yet the graphics get to speak louder than the text. Well done Manga Classics!
A nice adaptation in manga-form that will appeal to reluctant readers.
This book was so awesome!! I think everyone should read it.