Saga Deluxe Edition, Volume 1 (2014)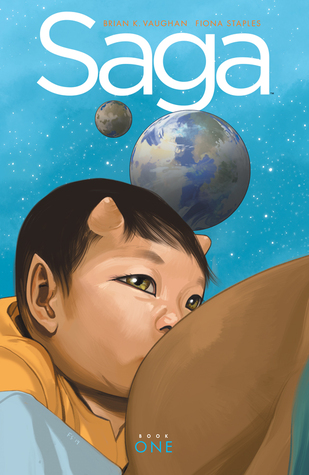 ISBN
1632150786
(ISBN13: 9781632150783)
What a amazing hard cover. This is the way I want to experience Saga. (So I guess I will have to wait until the next deluxe appears. ) Fiona and Brian have together created a beautiful and interesting world that is worthy of all the praise it has been getting for a while now. The insight of the creative process were a interesting and enjoyable bonus. Nice to see that even Brian K. Vaughan struggle with the same "script doubt" I have when I'm writing. I've heard so many good things about this series. I was able to check this out at the library and when I got it home I just couldn't put it down until my eyes were begging me to sleep. The story, the art, the emotion in the faces of each character great or small are all just beautiful. This comic is up there tied for first with the other being Vaughan's other great comic Y:The Last Man. I'm waiting for book four so I can continue with this masterpiece.
I'm going to need more of this book.
decent...but not fantastic.