Saga, Volume 4 (2014)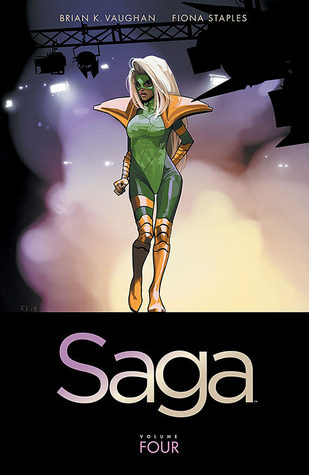 ISBN
1632150778
(ISBN13: 9781632150776)
hahaha that sure was a front page to open up on a crowded buswhat am i seeing? WAIT, shit, is anyone looking at me right now? TURN PAGE IMMEDIATELY(this volume begins with a close up of a tv woman giving birth. it's one heck of a moment when your brain interprets what's on the page)anyways at this point everyone knows saga is great, right? it is a glorious whackmob of aliens and colour around a solid sweet family story. 4 stars Remember what I said about Saga volumes 1 and 2? Yeah that...again. Volumes three and four are more of the same. It's still a stylish and sexy epic about intergalactic soldiers on the run. In these volumes we learn more of Marko and Alana's history, more of the background between their people, more of their philosophy and family. We also get to see more of their life on the run and in hiding. And this continues to be a compulsively readable, beautifully drawn and colored comic. And addictive. I still only have one bad thing to say about it and that is the difficulty in waiting for the next installments. Especially because volume 4 takes an interesting plot twist with multiple references by Hazel to this being the story of how her parents (Marko and Alana) split up. Volume 4 doesn't get all the way there which only adds to my impatience for the next chapters. Come on volume 5!
Good goddamn... It is unreal how good these are. And this one took it up a notch or two.
Continues to impress, even while things get a bit more depressing.
4.5,better than the last two but still not as good as the first
Yeah, this series is pretty great. I'm hooked.