Smiley (2014)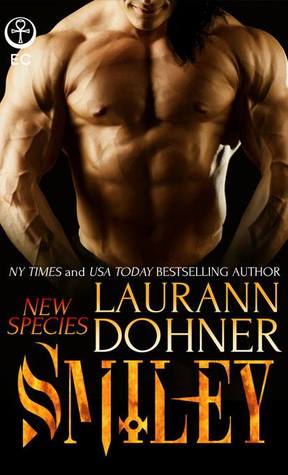 publisher
Ellora's Cave Publishing
After finishing the previous book in the New Species series "Darkness", I was anxious to get my hands on the next book which included one of my favorite characters. Smiley was always such an enjoyable guy to read about, always with a positive attitude and a smile for everyone, and I got very curious as to who exactly would be his perfect match. When he and young Vanni Abris are drugged by an evil organization that wants to threaten the New Species, it was a pretty rough start to their relationship. She was targeted by these people as a cow for slaughter to be used in their campaign against the NSO, and he was made the unwilling criminal in a false crime against a human. Neither one was truly willing to trust the other, for fear of what would happen, but in the end, they both cared about each other so deeply and with such real and everlasting love that I was just blown away! I was really looking forward Smiley's story since we've only had feline and canine Species so far. But primate don't have very strong or unusual abilities or traits except for the sensibility and need for touch. A bit disappointing on this side. Disappointing also was the lack of relationship between Smiley and Vanni. I felt there were very little more than sex between them and kind of resented that. I liked how this book was centered more on those opposed to the New Species' rights but I think it could have gone even further in that regard. I can wait to know whose story will come up next.
Not one of my favorites of the New Species series but still good.
OMG i loved this book. Smiley finally Found someone.
One day I might actually get to read this seties ;)