Stonewielder (2010)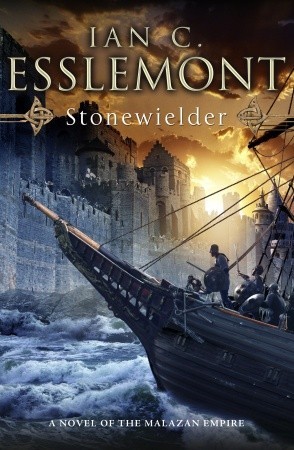 ISBN
0593064445
(ISBN13: 9780593064443)
This is the best of the books written by I.C.E. so far. The first two were very good but this one was absolutely captivating. It was non-stop action from the get go. But this series wouldn't be what it is, were it not for the stimulating story and complex characters to go with the action. A great read and another piece of the puzzle that is the world of the Malazan Book of the Fallen. Can't wait to read the next one. It took me ages to get around to reading this book. It started off OK, and the writing is fine, but the sheer number of characters and the darting around between different groups that the author does, meant I lost track of who was who and what they were doing quite quickly. I finally gave up about two fifths of the way through, having scant idea of what was happening, where it was happening, whether all those people were originally on that boat, why it was being attacked, and whether I should care whether they make some mysterious island which was either cursed or inhabited by barbarians, not that I knew why they were going there anyway.I put it down because I wasn't getting anything out of it. I picked it up because I got it for free from a Goodreads giveaway. At least nobody can say that has influenced my review!I might have another go at it if I run out of other books to read, but for now I can't award it any less than 1 star (I literally can't - it won't let me).
The best of Esselmont's books so far. It was a nice read and was paced better than Erikson's.
Super cool bro's!! Makes game of thrones look like shit....those books suuuuck.
A bit of a slow book but the end was good (and not just because it ended!)