The Bus Ride (2000)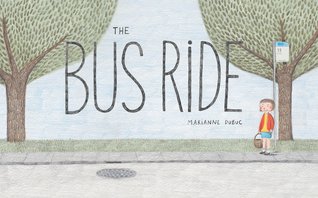 ISBN
1771382090
(ISBN13: 9781771382090)
I received this book as an ARC via NetGalley in exchange for an honest review.I really enjoyed the illustrations of this book. There were so many great details - the newspaper was a favorite, seeing the headlines change throughout the text. I enjoyed that a lot.The story itself however was a little lacking for me. It seemed to jump around a bit, and the very premise of a little girl riding a bus by herself even on a short journey would be potentially dangerous today. Within the story itself of course it is mostly harmless, as she shares cookies with a new friend (a wolf), and then scares off a would-be thief with a couple other passengers. I understand it is a bit of a play on Little Red Riding Hood (red sweater, basket, visiting Grandma), but something was just kind of off for me. While I certainly don't want my child to grow up being afraid of things like traveling on a bus, I still would not let her do it by herself at the age the child is in the story. It seems easy to read this book, then one must start again, and then again. Too many interesting things are happening on this special bus ride when young Clara is traveling, for the first time alone, to see her grandmother. Hmm-who is sleeping most of the time? Where did those cookies go? And what's with the fox? Is Clara in danger? In the wider world, is this book a metaphor for society and stereotypes? Terrific book, beautifully illustrated.
Pleasant illustrations done in colored pencil.The story is not compelling, maybe mediocre.
Gorgeous illustrations. Love the connection to Little Read Riding Hood.
I smiled the entire time I was reading this book. So lovely! :)
kinda odd retelling of Little Red Riding Hood