The Cypher (2011)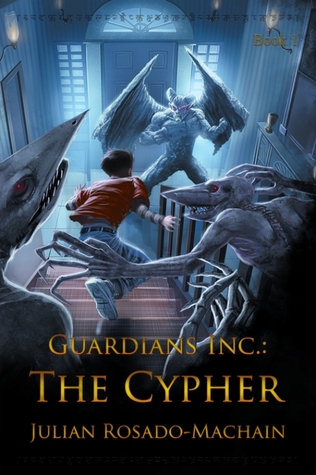 ISBN
1450748589
(ISBN13: 9781450748582)
publisher
Julian Rosado-Machain
Thomas loves his grandfather a lot and, now that his parents have died, it's just the two of them. While helping his grandfather look for a job, Thomas comes across an ad that, at first, looks to him like some funny language, but the next time he looks at it, the funny symbols are gone. That ad leads them to the Guardians, Inc mansion for an interview to be the assistant librarian. By the end of the day, both he and his grandpa have jobs there ... and that's only the beginning of the adventure. I liked this story. Not loved, but liked. It was unique and fun. I think it would be good for the younger ages, possibly elementary school, and a great chapter book to read with your children who are just starting out. The adventure is fun, but there were parts of it that disappointed me and I felt as if the author was talking down to the child. I do look forward to reading books 2 and 3 to find out where the story goes and see if the writing gets better as the series continues.Note: I was asked to read this story by the people running the blog tour, but I found and purchased the book myself. Note, it is still for free on Amazon. This very well could have been 3 stars - but the author did my least favorite thing in the world. He got to his desired length and decided, "Who cares that none of the story lines are tied up in any way, shape or form, I'll just end here and they can buy book two if they want to know what happens." You've got to tie up the major plot points - even if they're going to continue in the next book, there HAS to be some resolution somewhere.
Such a great, fun read, loved it so much, hope to read more of the series!!!
Amazing book, wonderful story. I'm hooked and will be back for the next!
A fun, quick read. Looking forward to Thundersword.
book is great if like mysterious