The God Who Smokes: Scandalous Meditations On Faith (2008)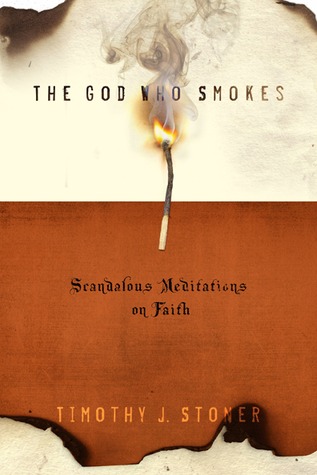 ISBN
1600062474
(ISBN13: 9781600062476)
The back cover of this book made it sound like this would be a well-balanced look at emergent theology. However, this book has turned out to be an assault on Rob Bell. Why Rob Bell, you ask? Because Rob Bell and Timothy Stoner share a hometown... and Timothy Stoner seems convinced that Jesus is about violence and has come to make war. Of course, if one were to really think about it, she would recall a story of a people who wanted a warrior and a fighter... but what they got was an unarmed, traveling preacher who talked was more interested in making peace...I guess I knew I was in trouble when Stoner, in the prologue, thought he could sound young and hip by connecting his name to illicit drugs... a juvenile joke which only shows that Stoner has little esteem for young people. And this theme of antagonism against young people would play out over and over again. Rob Bell is referred to a "thirty-something testosterone-drenched preacher" (for example). Many of his attacks against Rob Bell center around the book, "Velvet Jesus"... and he made it clear that in many of the discussions he had, he had yet to read the book. Apparently he would read it later, but from his open hostility, it is abundantly clear that he picked it up with animosity and preconceived notions about what Bell was trying to say. I doubt he listened very open mindedly.Worse yet, he puts words in Bell's mouth. Despite living in the same hometown, Stoner never makes reference to meeting Bell, but claims to have relatives who are associated with the church and with Bell. At one point he asked a staff person from Bell's church about Bell's belief and when the staff person says, "Of course that's what [Rob Bell] believes, Stpner just assumes it must be. After all, this was a friend of Bell and should know... and we all know that friends never, ever misunderstand us or misspeak on our behalf, right?Stoner never actually gets around to explaining what Emergent Theology or postmodernity is. Someone picking up this book and encountering those terms for the first time would have no clue what those ideas are when they finish it. Stoner seems to equate emergent theology to Rob Bell in totality, as though Bell is the beginning and end of it. And postmodernity is apparently something that has to do with being young... However, Stoner is an excellent writer and his theology is (all though I feel mis-informed and outdated) is well thought out. Had he eliminated his attacks on Rob Bell and emergent theology and set out to share his personal theology, the book might be a little more credible. Beautiful, engaging writing - difficult content. Whereas N.T. Wright's "Surprised by Hope" challenged my intellectual assumptions, Tim Stoner here challenges a lot of my emotional ones. "The fear of God" is something that's strangely lacking in a lot of Christians, and Tim posits that it's because we've become comfortable with a more gentle, non-confrontational portrait of Jesus - one which is not altogether accurate, and in fact quietly weakens the foundational justice that is such an integral part of God's character. "He is not safe, but He's good": CS Lewis's words are explored to the fullest through a series of very personal essays, always humbly presented. Gave me a lot to think about, and left me feeling incredibly restless.
not as progressive as i hoped. he made some nice observations about art and religion, though.
I love emerging theology, but this book wasn't what I had anticipated.
halfway through - need to finish