The Life-Changing Magic Of Tidying Up: The Japanese Art Of Decluttering And Organizing (2011)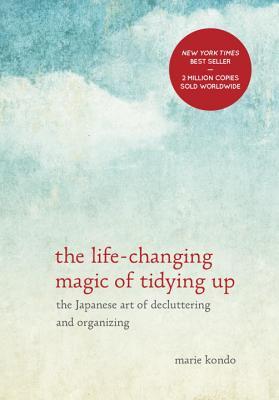 ISBN
1607747308
(ISBN13: 9781607747307)
publisher
Ten Speed Press
I just got rid of half of my non-furniture stuff in the process of moving to a new city, so I definitely get what she means about how good it feels to let go of things you have been keeping that don't add value to your life. (We got rid of several car-loads full of stuff, and yet I miss very little of it.) I especially like her idea that you concentrate on what you want to keep, not fixate on what you need to discard - and if something gives you joy who cares what anyone else would think of it. It really is a wonderful feeling to be surrounded by things you really love. However, be aware that this woman is a little crazy. I have been known to anthropomorphize my stuff a little (Me and my husband's cars talk to each other in the garage, I named my paper shredder, etc) but this woman takes it to a whole new level. I refuse to worry about my socks' feelings. A very good and surprisingly short guide to tidying up. Definitely worth the read.---The Life-Changing Magic of Tidying Up: The Japanese Art of Decluttering and Organizing, by Marie KondoI picked this up because I saw a recommendation on Instagram. Typically I don't read books about decluttering or tidying because I find, more often than not, that they fall into two categories:1) Advice that focuses too much on buying fancy storage solutions to manage your stuff. It always feels like they're enabling you to keep everything you already have and to buy more stuff to keep it in a socially acceptable way (ex: in a pretty box instead of in a pile on the floor)2) Really long winded advice that's too complicated to follow or takes too long to implement. I need to fix the problem now (this instant, this weekend, or at least in the next 2-3 weeks), not after taking weeks to read a dry book and months to implement a long plan. I'll give up long before that.I really liked this book for a lot of reasons:1) It's no nonsense and makes it clear that you do have to get rid of stuff and you do have to designate places for everything2) Her advice is useful (get it done all at once so that it's just done; leave sentimental things to the end; take everything out, even things you know you'll keep; etc.) and offers good ways of breaking things down (ex: she gives an order for how to tackle all of your clothes – shirts/tops then pants/bottoms … etc.)3) She doesn't tell you to buy lots of fancy storage solutions (in fact, she kind of discourages it)4) It's short. Seriously short. I read it in a morning, and I'm a bit of a distracted reader.If anyone ever asks me to help them declutter (I'm known for being good at organizing things), I'll start by making them read this book.
Overrall, i liked the book. The author had good ideas and tied in her concepts well.
Inspired me! 2015 will be the year I clear the clutter!
My socks have never been happier.