Vivian's List (2013)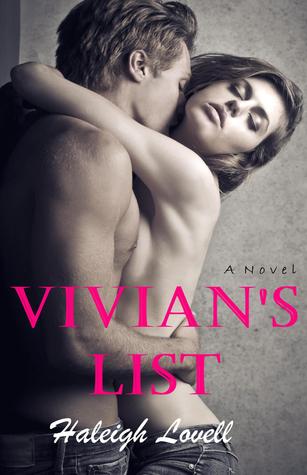 ISBN
1492895016
(ISBN13: 9781492895015)
publisher
CreateSpace Independent Publishing Platform
3.5 -4 stars There were very long sex scenes but that didn't really bother me even if there were quite a few. I did enjoy the story. I just wish it would have been resolved in one book and that they had a more in depth relationship more time spent not sleeping with each other the everyday banter and friendship. Going to read Liam's List next hopefully there isn't too much drama. Those looking for a quick read with surprising depth and steamy interludes will find exactly that in this book by a new-to-me author. Though the theme might be a bit clichéd the thoroughly likable characters, strong emotional connection, and intriguing dual point of views make for an engaging and compelling read that has me looking forward to the next book to get a resolution to the burgeoning romantic relationship between Vivian and Liam. This was a well written, spicy romance. It wasn't just about sex, there was actually a storyline. Vivian, the heroine, is in an unhealthy relationship. Her brother's best friend, Liam, a soldier on leave from Afghanistan, is trying to help her see the light. Liam stays with Vivian during his leave. What happens is a self-fulfilling journey for Vivian once her eyes are opened. It's a must read. Be prepared to change your knickers because there are some scorching scenes in there! I have a new found respect for mints.
Yes yes so good. I love Liam so much his so amazing. Can't wait to start the next one.
I enjoyed the characters, but I found the writing to be a bit amateur.