Winter Soldier, Vol. 1: The Longest Winter (2012)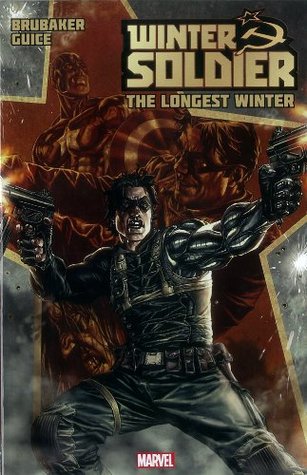 ISBN
0785144404
(ISBN13: 9780785144403)
A decent spy thriller starring the freshly revived Bucky Barnes. Set in the present, he is teamed up with ex KGB agent-come- Avenger Black Widow and sent to take care of old friends and enemies from his soviet winter soldier days. Gorillas packing heat, spice this cold war spy story up just enough to make it worth your time. Sadly I was a bit bored with the art style and Bucky really doesn't have any amazing abilities on show, give me more metal arm action next time. I gather that this follows Fear Itself, where people no longer know that the Winter Soldier is alive, and Steve Rogers is once again Captain America. This is a neat espionage story, with super powered elements, and features some parts that I haven't seen in a while. Overall, it was well done, but a different kind of story than I often see in other comics. It is quite good, but not my usual stomping grounds.
Ah, Bucky and Natasha's relationship. Perfect, perfect, perfect.
Bucky! Natasha! I draw a million sparkly hearts around them!
Individual issues on marvel unlimited
The art and colors are so fantastic.
This was a really enjoyable read!